Memory Lane donate monies to Sheppey Little Theatre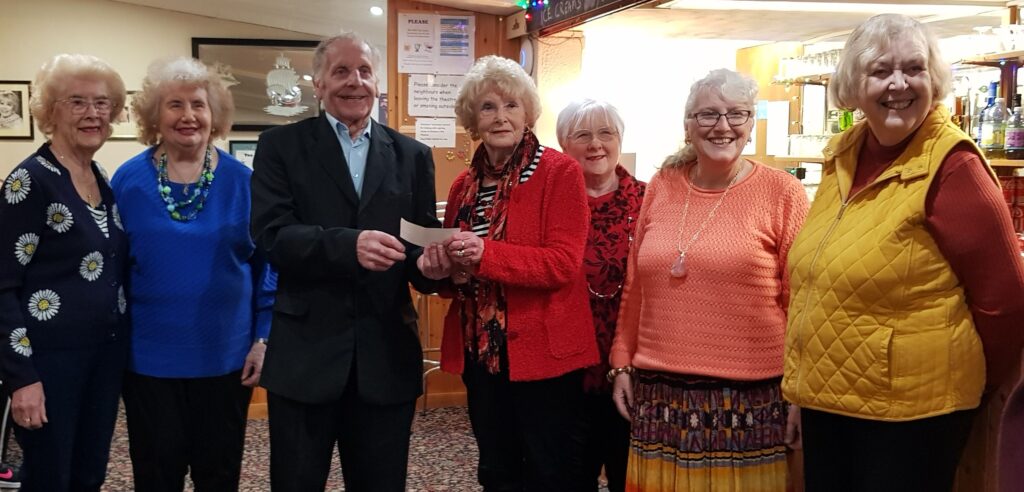 The donation was made at Amanda Jhoom's Bollywood night that raised a further £117.00. Thank you all Amanda's Just Jhoom, Wobble and Paracise ladies.
The money will pay for our upgraded wi-fi system
Brian Mitchell becomes Sheppey Little Theatre's new patron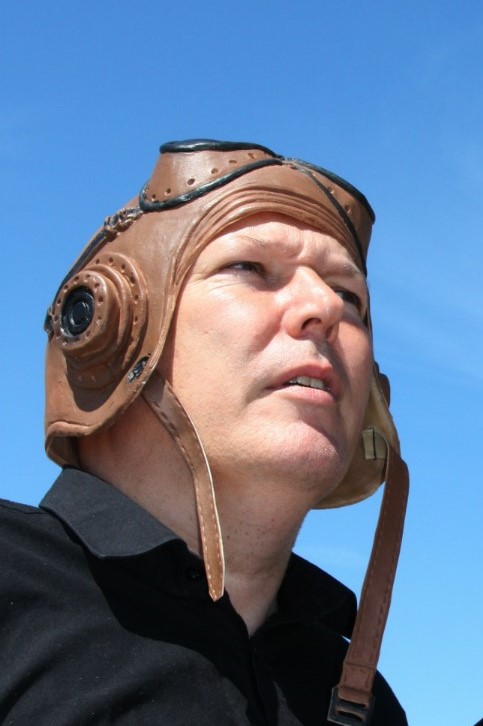 Sheppey Little Theatre Committee are pleased to announce Brian Mitchell has accepted our invitation to become a patron of Sheppey Little Theatre. Since 2015 Brian has brought five shows to Sheppey Little Theatre. Brian said "I'm thrilled and honoured to become Sheppey Little Theatre's patron, a lovely theatre entertaining the people of the Isle of Sheppey".
Brian is the Artistic Director of the Foundry Group, and performs in, as well as directs, most of its productions. New projects include his and Joseph Nixon's latest play Who Is No. 1? – the true story of the making of 60's TV classic The Prisoner – premiering in Brighton Fringe this year. The Foundry Group first came to Sheppey Little Theatre in 2015 with their show "Those Magnificent Men" about Alcock and Brown's epic flight across the Atlantic in 1919. Since then they have performed some of their other shows at Sheppey Little Theatre, which are:
– Gilbert, No Sullivan (2017)
– The Ministry of Biscuits (2018)
– Whad D'ya Know We're In Love (2019)
– Lord God (2022)
Brian was a founding member of the award-winning sketch group The Ornate Johnsons with long-standing writing partner, Joseph Nixon (co-writer of West-End hit 'The Shark Is Broken'). They met in Primary School in Derbyshire and started writing plays together when they were just fourteen years old. Together they have written many works for stage, including Edinburgh hits Big Daddy Vs. Giant Haystacks (The Foundry Group), Those Magnificent Men (New Perspectives) and Gilbert (No Sullivan).
Their TV comedy shows include Slightly Filthy (LWT) and The Ornate Johnsons' Edwardian Spectacular (BBC 4) and they were head sketch-writers on two series of Jo Caulfield Won't Shut Up (BBC R4).
With best-selling children's novelist Philip Reeve, Brian Mitchell wrote the acclaimed musical comedies The Ministry of Biscuits and Lord God. A classically-trained composer, Brian's songs for the Perrier-Nominated show, Joanna Neary Is Not Feeling Herself, were broadcast on Radios 1, 2 and 4.

Jeremy Thornton – 8 February 2023
_____________________________________________________________________________________________

Tom Owen our patron has died at age of 73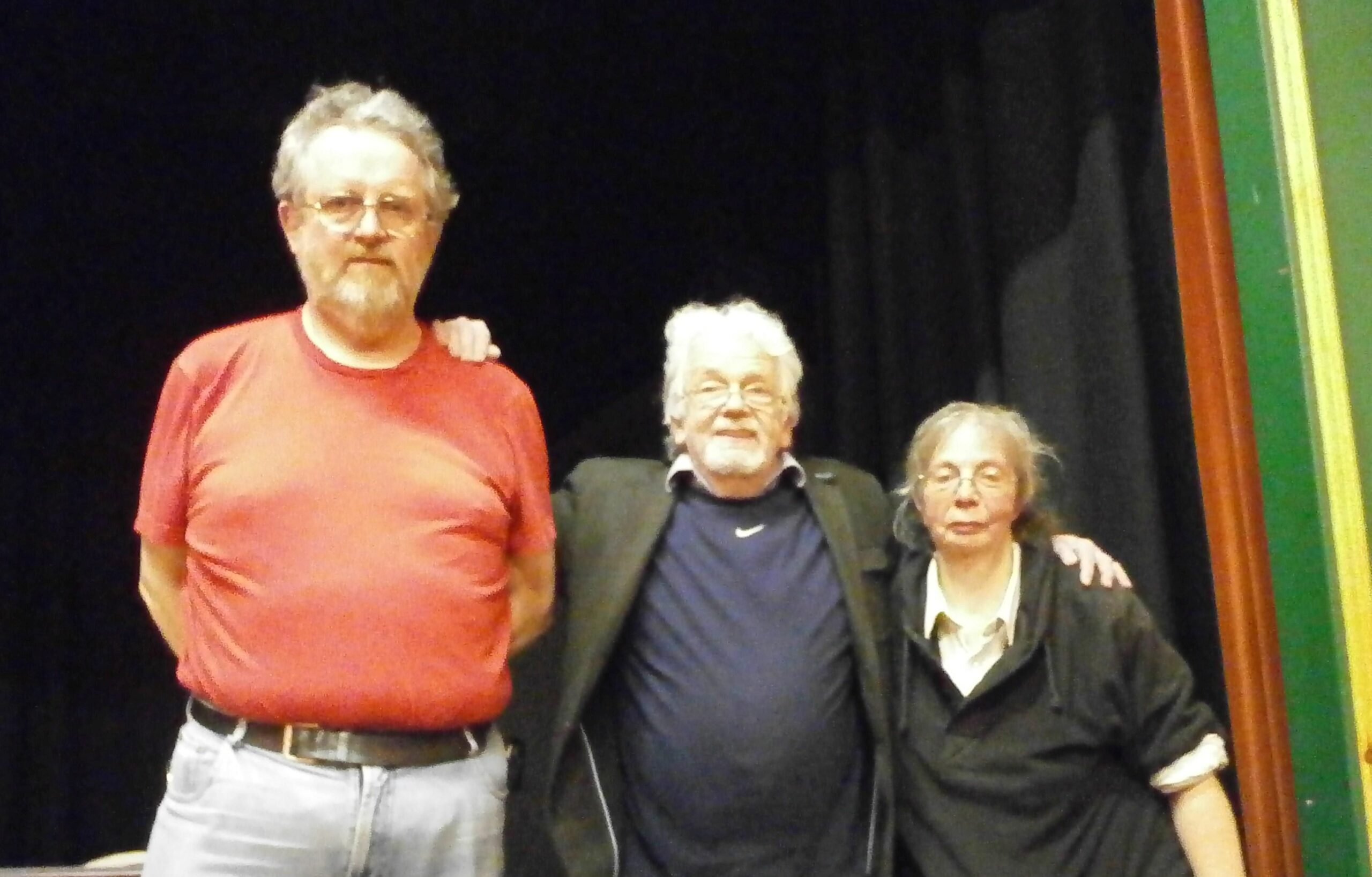 All of us at Sheppey Little Theatre trustees and committee were sad to hear that Tom Owen the actor and our patron has died. Tom was in Last of the Summer Wine, Minder, Z Cars, The Onedin Line as well as many films including Goodbye Mr Chips and The Guernsey Literary and Potato Peel Pie Society.
Tom Owen appeared twice at Sheppey Little Theatre. The first time in Autumn 2006 with his play '14 by 3' the story of The Last of the Summer Wine, a tribute to his father Bill Owen, who played 'Compo' for over 25 years. Bill Owen died in 1999. The committee asked Tom to be one of our patrons. Tom was delighted to accept our invitation.
Tom appeared again at Sheppey Little Theatre in April 2013 with Samuel Beckett's one act, one man play, 'Krapp's Last Tape' which he performed across the UK to favourable critical reviews. Sheppey Little Theatre's technical team Andy King, Martin Walker and Linda Rogout, who has sadly now passed away, worked with Tom to ensure our production met the strict requirements of Samuel Beckett's play. Tom asked us to get a bunch of bananas that snapped when you peeled them and a carton of apple juice to simulate the alcohol he drank during the performance. Touring companies normally bring their own sets, Tom Owen asked us to rig him up a door and light it in a very specific way. Tom said we were practically the only venue on the tour to get it right. Tom's website said the sound technician needed to be on top of all the sound cues which is extremely important to the play. Tom complimented Martin Walker, our sound technician, on the sound cues which Martin had to manually cue in.
Martin Walker – Sheppey Little Theatre trustee and sound technician said:
"Krapp's Last Tape was the most intense show I've ever done sound for. All my cues were visual as I had to activate the sound as Tom turned the switches on the tape recorder! He was a great guy to work with."
In 2015 we asked Tom for a quote for our book Praise and Applause, published to celebrate our 40th anniversary of Sheppey Little Theatre, he said this: "Sheppey Little Theatre is a fine example of excellent local theatre for local people. Through sheer hard work, enthusiasm and professionalism, they succeed against all odds. I have had the pleasure of performing there on two occasions. I look forward to the third." Sadly Tom didn't perform again at Sheppey Little Theatre. Those who saw and met Tom remember him as a genuinely warm character and a true professional who loved acting. He said TV and films paid the bills but "I always look forward to returning to where I learned my craft – the theatre".

The trustees and committee have sent a card to his family to express our condolences for their loss.

Jeremy Thornton – 14 November 2022
_____________________________________________________________________________________________


New extension work – well underway!
While Sheppey Little Theatre has been closed due to Covid 19 we're working hard to extend the theatre to the rear of the stage. This storage room will make it easy to move items onto the stage and free up space upstairs to install a disabled toilet. This has been made possible by grant funding – more details to be published in the future when the work is complete. We're also updating our electrics. Thanks to Derek Friday and his team. We look forward to opening  in the future when Government guidelines allow us to so and it's safe for our customers. Stay safe.
25 September 2020
---
Vote for Sheppey Little Theatre – Bags of Help Tesco – Sheerness
We are pleased to tell you that Sheppey Little Theatre will be competing for your votes in our local Tesco stores for your blue tokens during March and April! We are raising funds to install a disabled toilet upstairs in the auditorium to help people with mobility needs enjoy our shows. This means converting a cupboard – but first we need to build a new area back stage to house the cupboards current contents! Nothing is ever simple! So vote for us in Tesco this spring"!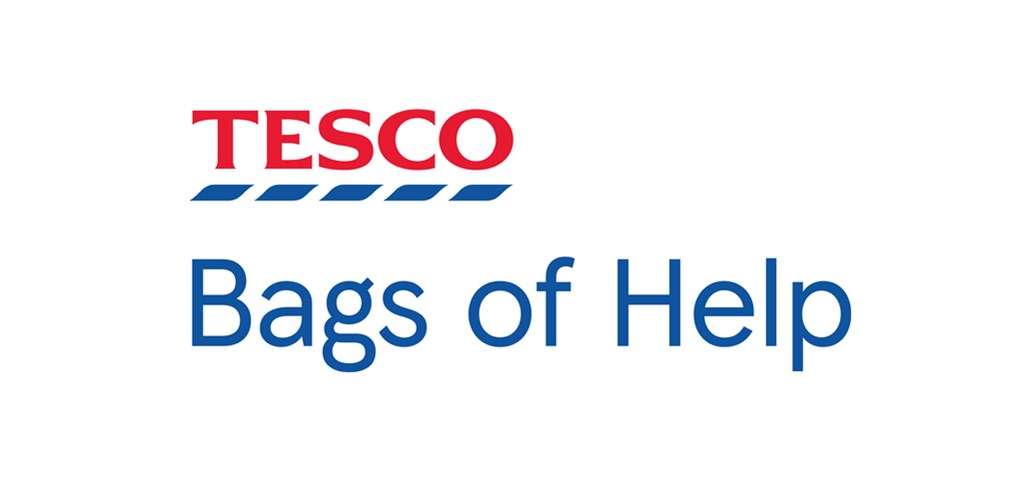 17 November 2018 – Do not miss A Christmas Carol as told by Jacob Marley (Deceased) tonight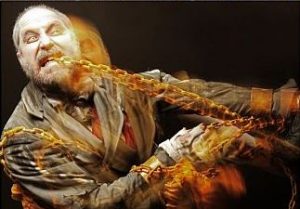 This evening (17 November at 7.30) James Hyland, a very talented actor returns to Sheppey Little Theatre to perform A Christmas Carol as told by Jacob Marley (Deceased).
Now if you're familiar with Charles Dickens book or have enjoyed any or all of the many adaptions on TV at Christmas you'll know of the three ghosts that visit Ebenezer Scrooge; his miserly and selfish ways; of Bob Cratchit – his decent underpaid clerk struggling to keep his family on 15 shillings a week; of his disabled son Tiny Tim who despite his illness remains cheerful and optimistic and you'll know about the astonishing changes which occur over one, miraculous night. If you've never seen a Christmas Carol before you'll be amazed at the power, humour and pathos of this version.
If you're tempted to witness this one man give in to that temptation, if you haven't visited Sheppey Little Theatre before take a rare chance to see James Hyland, who has performed this show across the country to great acclaim, on your own doorstep. Buy your ticket from our box office tonight, bring a friend to share the experience, bring two, bring your family. If you've already got plans for tonight – cancel them (really – it's that good!) so you can see this astonishing adaption where James becomes all of Dickens vibrant, Victorian characters. You'll be pleased you did!
Come and see this compelling retelling of one of the greatest most uplifting Christmas stories, I've seen this show twice before and I'll be there tonight  to see it for the third time. Tickets are just £10.
Saturday 28 July – The Ministry of Biscuits – tophole musical comedy!!!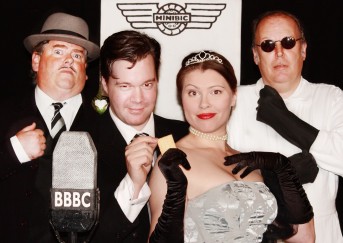 Last night saw the triumphant return of the Foundry Group to Sheppey Little Theatre to perform their ever so funny Ministry of Biscuits. The comedy is set in distopian 1948 where biscuits are not allowed to be too fancy, Rich Tea would pass the Ministry's test, Fruit shortcake would also be fine. But Jammy Dodgers or Jaffa Cakes had to be secreted away as contraband.
So it probably won't come as a surprise to you that the Triple Chocolate Ginger Nut Cream Surprise was indeed a biscuit that would turn the Ministry upside down. Biscuit puns, an air of menace, great comedy singing – very funny props. Brian Mitchell was the Minister of Biscuits, Murray Simon played Cedric Hobson, David Mounfield was the spiv-like Babbington and Amy Sutton played three characters – Miss Randall, Francoise Courvoissier and Dr Wischwinge. These were great and memorable characters playing for laughs and actually attracting extra laughs as a few things didn't go quite to plan causing unplanned hilarity for the performers – playing in sauna like conditions on a hot night in Sheppey Little Theatre.
If this sounds like comedy you'd like to see – well actually last night was the last of the current run of this  show but do keep your eye on their website as they are promising to announce new dates as they become available –  http://www.foundrygroup.co.uk/?page_id=3060
Jeremy Thornton – web editor – 28 July 2018
9 September – Gilbert – No Sullivan – very funny show!!
If you weren't at Sheppey Little Theatre on Saturday you missed a real treat. Stars of TV comedies such as This Is Jinsy and those Magnificnet Men which they performed at the theatre two years ago in 2015. This was some of Sir W.S. Gilbert's (of Gilbert and Sullivan fame) stories and ballads. Great comedy with many really funny props, fantastic timing and delivery and wacky character acting. But fear not they are playing again locally on 21 October, same show at Rodersham Village Hall in Sittingbourne. If comedy is your bag and you want a lot of laugh out loud fun – do not miss this show!
Jeremy Thornton – web editor
2 September – Deadmans Island talk – best supported yet!
Sheppey Little Theatre has been putting on talks of local or local historical interest for several years now.Last night au audience of 95 people came to hear Daf Charman give a fascinating talk about Deadman's Island, supported by Sue Percival and Shirley West who read excerpts from letters about Surgeon Sidney Bernard and Jo Eden who read about a ghost dog on Deadmans Island.
Daf's talk was illustrated with many photographs of Deadman's Island and of Surgeon Sidney Bernard who nursed sailors with yellow fever whilst in quarantine. Sidney knew that the odds of him catching yellow fever were high but that didn't stop him. He died of yellow fever and is buried on Burntwick Island, next to Deadman's Island in the Loneliest Grave in the world. Daf told tales of the prison and hospital hulks which stretched from Sheppey to Strood in Napoleonic War times.
Do keep an eye on our varied programme for shows, plays and talks – we do try to put on a varied programme to appeal to all sorts of interests and tastes.
Jeremy Thornton – web editor – 2 September 2017
Sheppey Little Theatre – entertainment for everyone
Sheppey Little Theatre try their very best to put on something for everyone. Here are some pictures of acts we have had at the theatre over the last year. Keep an eye out for our what's on list.
Sheppey Little Theatre receive grant funding for new doors – 30 April 2017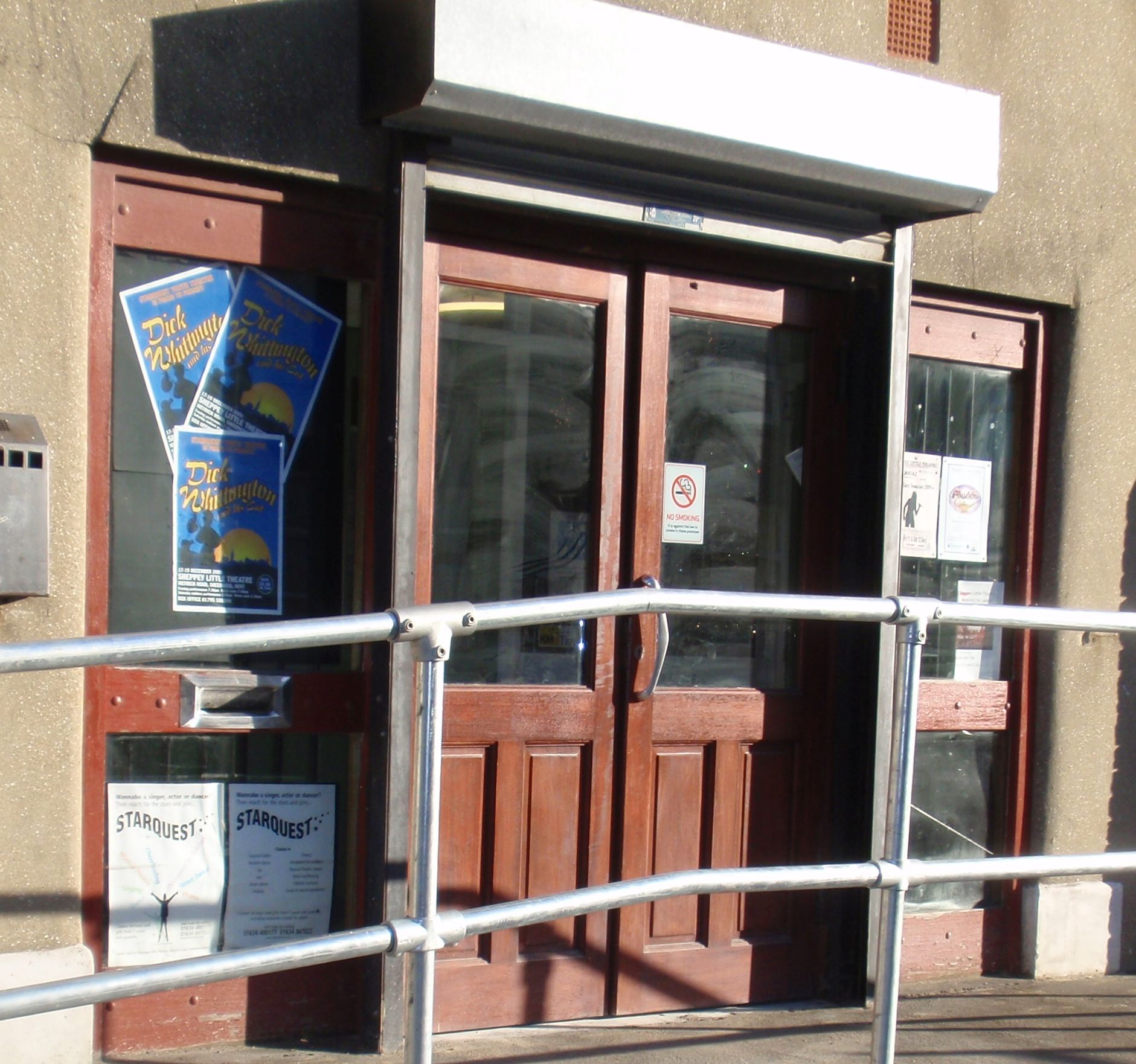 In September 2016 the SLT committee decided that we needed new doors. To make that happen we needed to raise £12,000. Since then we have been applying for various grant funding. Good news – we now have the full amount of funding to have new doors fitted which will be electric sliding doors. This will modernise the theatre and be a lot safer than the existing swinging doors. The committee would like to thank the various grant funders for their contributions as follows:
£6,000 – Trusthouse
£5,000 – Queenborough Fisheries,
£350 – members grants from SBC,
£1000 – from SBC Cultural fund,
£250 – from Checkmate
Anita Harris returns to Sheppey on 25 February 2017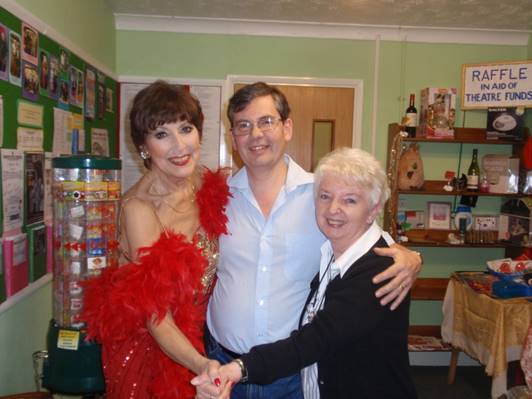 Anita Harris at Sheppey Little Theatre in 2015 with Yvonne and Martin Walker
Anita Harris has been in show business since she was 15 years old. I remember Anita Harris from the 1970s she was on everything the David Nixon Show, Morecambe and Wise and This is Tom Jones. Anita has done pretty well everything in show business from Las Vegas to Top of The Pops, Carry On Films, pantos for many years and appearances in the West End in CATS. She has been to Sheppey Little Theatre already in 2015, as well as talking about her career and singing some well known songs – she still has a great voice. As well as still being a great entertainer she was lovely and down to earth –  she signed autographs, posed for photos and chatted to people as they left the theatre after the show.
So come to the show on 25 February 2017. If you're too young to remember Anita Harris, bring your Mum and Dad, if they're too young to remember her bring your grandparents as well – they will definitely remember her. We don't have many celebrities on the Island. Come and see Anita Harris you'll be glad you did! Book tickets at Sheppy Glass in person or ring 01795 580006.
Updated by the web editor – Jeremy Thornton on 28 February 2023